Vultr is well known for its world-class Cloud Server service and is trusted by a large number of customers.

With the price here is very cheap and good quality VPS, many features outperform other vendors. It is not difficult to use the service here with easy registration and for just $ 3.5 / month you have a Cloud VPS with 20GB SSD and 512MB Ram.
Currently, Vultr has a data center in 15 cities around the world and in particular they have data centers in Singapore and Japan. If you use East Asia and South East Asia, the speed is very good.
There is a special premium feature of Vultr VPS that you can install all versions of Windows Server and Windows 7 to Windows 10. Very few providers allow installing Windows like this. For only $ 5 you already have a Windows VPS.
Vultr coupon codes: Get free up to $103 credit for new customers
Get free $100 credit for all new customers
Vultr's special program is still ongoing. When you create a new account by this Special Promotion Link, deposit money into your account, Vultr will donate to the amount you have loaded. Up to $ 100 when you deposit $ 100 into your account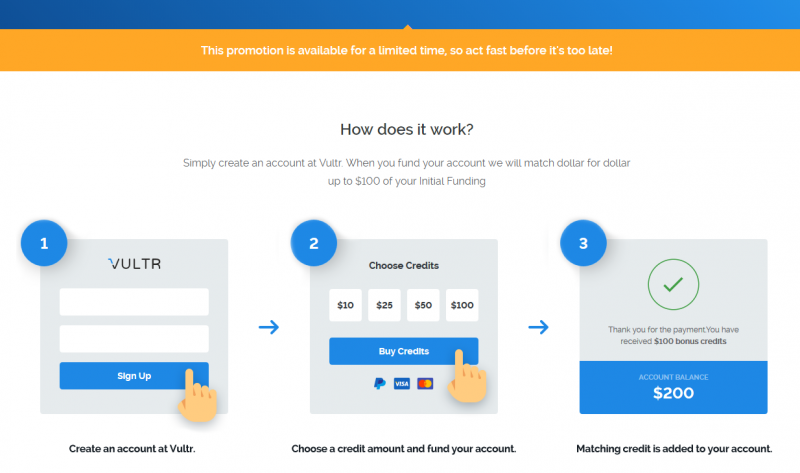 As you can see in the picture. The program is still ongoing for new customers. Just create an account and deposit $ 100 into your account. With $ 200 in credit, you will be comfortable using VPS for a long time at Vultr.
60% OFF Bare Metal Server, Get free $100 for trial
Vultr is offering 60% discount on Bare Metal Server and you will get more free $100 credit.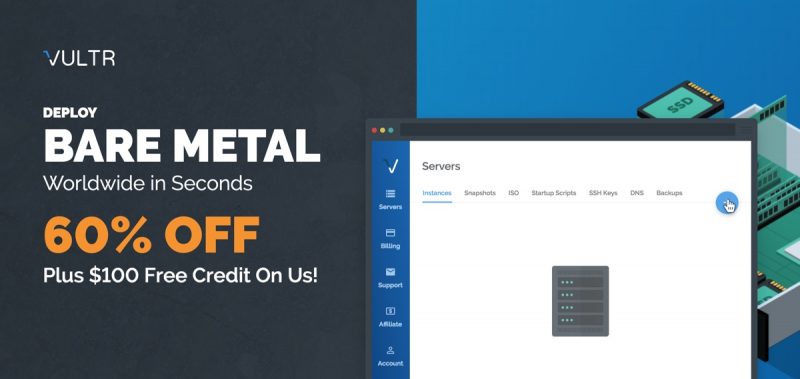 The special price is only $120/month ( Normally $300 )
You will have 2×240 GB SSD, CPU 8 cores, 32GB Ram, 5 TB Bandwidth. Create a new server within seconds and choose location at Euro, Asia, and North America.
The $100 credit will only be applied to new accounts registered with this promotion link  for only Bare Metal Server. Not applicable for VC2 and other services.
Connect Twitter to your account and get more free $3
How to get $3 credit at Vultr with your Twitter account?
You only need to login to your Vultr account then verify your Twitter account, follow Vultr's Twitter account then tweet a status about Vultr. Finally, you will get more $3 in your account.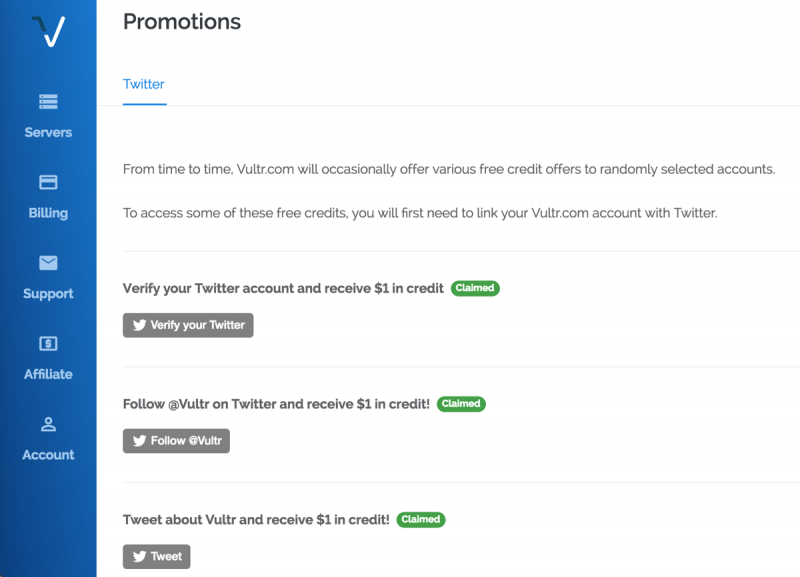 If you do not have an account here, please register one here. If you need help, please leave a reply.
Good luck to you!