Advantages of using free hosting services
There are many advantages of free hosting service
No hosting costs. This is of course
Easy registration. You only need an email to sign up for an account.
Match the newbie. If you give up your website then there is no waste. Many of you give up blogging after just a few months. In this case, if you rent a host, there is a big waste. Simply because you usually pay a year's hosting rentals.
---
Disadvantages of free hosting services
Confidentiality is not good. Website hosting on this is more likely to be hacked.
Download speed is not very fast.
Your website is at risk of being stopped if it gets large hits.
List of the best free hosting service providers
1. 000webhost.com
000webhost is the best and most popular free hosting service on the market today.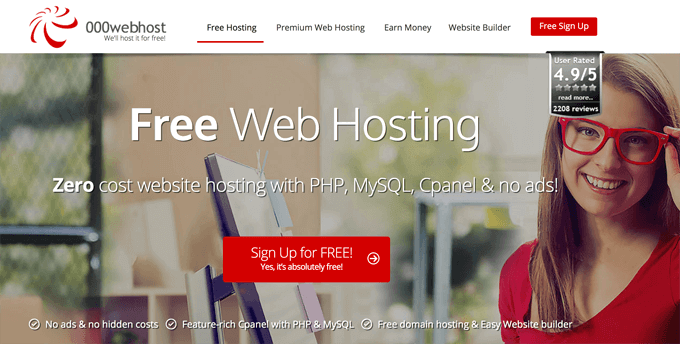 The number of 14 million users around the world eloquent. This provider has provided free hosting service, no ads since 2007.
So they have a lot of experience in this type of service. You do not fear your website will disappear overnight
000webhost's free hosting service features the following:
1.5 GB storage
Unlimited domains and subdomains
100GB of bandwidth
5 email accounts
Website builder
This is also the only free hosting service that has a free SSL certificate.
Register here.
2. AwardSpace.com
AwardSpace also offers free hosting services for over 10 years
Sign up for a free account you will get:
1 GB storage
A domain and 3 subdomains
5GB of bandwidth
An email account (with email filter included)
Website builder
You can register on this link.
3. Freehostia.com
Some free hosting service parameters here:
250 MB storage
5 domain
6 GB of bandwidth
3 email accounts
4. FreeewebhostingArea.com
Some free hosting service parameters here:
1.5 BG storage
Free 5 databases
Install phpMyAdmin in advance
Full FTP support.
You can Sign Up here
Some free hosting service parameters here:
5 GB of storage space
An addon and a parked domain
20GB of bandwidth
No email service
6. Byet host
Highlights: